Beach warning to dog owners after palm oil discovery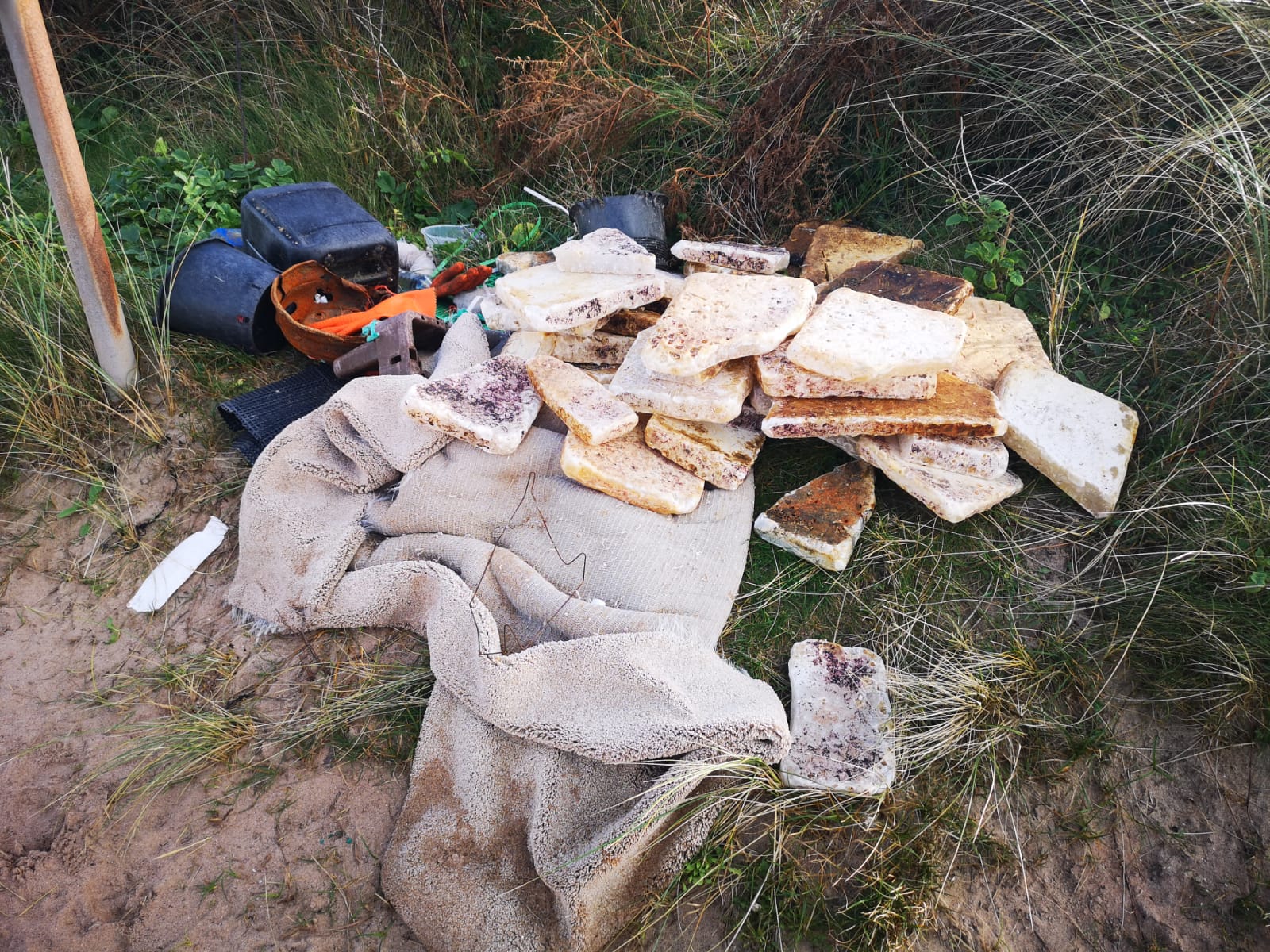 Dog owners have been warned to keep their pets on leads on the South Pembrokeshire coastline after a substance believed to be palm oil was washed up.
Deposits of the yellowish or white waxy substance have been reported on Manorbier, Tenby and Amroth beaches.
Palm oil is not harmful to humans but can be fatal for pets – particularly dogs – if ingested.
Pembrokeshire County Council was informed about the substance earlier today (Thursday, 19th November) and the coastline is being monitored.
By this afternoon, all affected beaches were reported as clear and no evidence of palm oil has been found on other beaches.
Materials picked up by volunteers have been removed for disposal.
In the meantime, dog walkers and beach users are advised to keep away from the substance.
Pembrokeshire County Council Leader, Councillor David Simpson, has provided a further coronavirus update for Friday, 20th November, as follows:
'This week I want to reinforce some of the messages that the Welsh Government is issuing to the public in the wake of businesses re-opening after the recent 'firebreak' lockdown and the subsequent easing of restrictions.
'With this in mind, it can be tempting to go back to our old way of life. It might feel awkward, but saying no to a friend or opting to stay home could keep us safe. Let's think about what we should do, rather than what we can do.
'There are good reasons why we can meet friends in regulated settings, but not in our own homes or gardens. The more places we go and people we meet, the greater our risk of catching or spreading coronavirus.
'If you choose to go out this weekend, remember:
· go to less-crowded places
· stick to the same small group
· keep your stay short and keep your distance
· wash your hands and wear a mask.
'And if you do start showing coronavirus symptoms, it's important to isolate and to book a test. Stay home until your test results are back and, if they're positive, keep isolating. A team of contact tracers will be in touch.
'Always ask yourself: is this journey essential? Do I need to do this? Is there a safer alternative? The fewer places we go and the fewer people we meet, the lower the risk of us catching or spreading coronavirus.
'It's up to every one of us to do our bit to keep Wales safe. We all need to work together to protect each other.
'Every day we face challenges and every day we move forward. It may seem, at times, we are only making small steps but every step forward helps us recover and get back to a more normal way of life.
'This is not the time to change our step. Keep going forward but please remember the impact your steps can have on others.
'Before I conclude today's message I want to pay tribute to all the carers in our county. Next Thursday (26th November) is Carers Rights Day across the UK.
'In Pembrokeshire there are around 15,000 people who provide unpaid care and support to family and friends and the coronavirus pandemic must be an even more stressful time for them.
'I fully appreciate the hard work that all carers do and the tremendous commitment they demonstrate. More details on support for carers can be found in the list below:
'The following coronavirus-related press releases have been issued since my update last Friday:
· New Team To Aid Covid Fight:
· Deep Clean Regime For Fitness Suites:
· Café Culture Grant Deadline:
· School Bus Seats Reminder For Students:
· Deadine For Lockdown Grants:
· Library At Home Service Restarts:
· Class To Self-Isolate:
· Do Your Bit:
· Carers Rights Day:
· Library Reservations Service Restarts:
· Small Number of Pupils To Self-Isolate:
'In the meantime, stay safe and take care of each other.'
Public Health Wales (PHW) publishes an interactive daily dashboard of data about coronavirus cases across Wales broken down by health board and local authority area, at: https://public.tableau.com/profile/public.health.wales.health.protection#!/vizhome/RapidCOVID-19virology-Public/Headlinesummary
PHW also provides a daily update focusing on key public health information and updates at: https://covid19-phwstatement.nhs.wales/
Information about coronavirus is available here on the Welsh Government's website: https://gov.wales/coronavirus
Also, please keep an eye on our newsroom at: https://www.pembrokeshire.gov.uk/newsroom
For service updates visit: https://www.pembrokeshire.gov.uk/emergency-planning/service-changes
And to get daily email updates, log onto our website and sign into My Account at:
Other useful links:
The Community Hub can be contacted on 01437 776301 or by emailing communitycovid19@pembrokeshire.gov.uk.
At present the Community Hub's hours are Monday to Friday, 9am – 5pm, and 10am-2pm on Saturday.
Booking a COVID-19 test:
Hywel Dda University Health Board recommends testing only for those with a new continuous cough, a high temperature, or loss of or change in the sense of taste or smell.
If a child does not have symptoms of COVID-19 but has other cold-like symptoms, such as a runny nose, they do not need to be tested and they and you do not need to self-isolate. Your child can go to school if fit to do so.
If a COVID-19 test is required, this should be arranged via the UK Booking Portal, https://gov.wales/apply-coronavirus-test or by ringing 119. Testing is available within Carmarthenshire, Ceredigion and Pembrokeshire or via a home testing kit delivered to and collected from your home. The COVID-19 test is undertaken via a throat swab or combined throat and nose swab.
KILGETTY SURGERY IS CLOSED UNTIL FURTHER NOTICE; PLEASE CONTACT SAUNDERSFOOT MEDICAL CENTRE ON 01834 815115.
FOR REPEAT PRESCRIPTIONS, TELEPHONE 01834 814334 AND ALLOW 72 HOURS IF POSSIBLE.